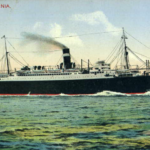 In Part 1 of Rhoda's Story, my grandmother was visiting her relatives in the town of Street in Somerset, England, in August, 1939, when Germany announced it signed a non-aggression pact with Russia. The pact cleared the way for Germany to invade its neighbor, Poland, a nation England had previously agreed to defend. War in Europe suddenly seemed a greater possibility. Rhoda's account of these events continues: 
That evening I heard over the radio the warning to American citizens in Great Britain to leave for home immediately. I called the American Consul and asked his advice, and he told me if I could make arrangements to leave, to do so at once, for, he said, if war broke out and the American government sent ships to evacuate their citizens, we would be allowed to bring only one piece of hand luggage, and would be expected to carry warm clothing and enough imperishable food to last over a week. Having paid my return fare and having bought and packed numerous presents and souvenirs, and clothes I had brought with me in case cold weather set in before I got back in October, I thought the best thing I could do would be to try and make arrangements with the Cunard Steamship Line to transfer me to the earliest possible boat they could. Then I could bring my luggage with me.
Rhoda contacted her steamship company to arrange passage home to New York as soon as possible. After being transferred to a ship whose sailing was cancelled, she received passage on the Athenia, sailing Sept. 2 from Liverpool to Montreal. She arranged to take a train from Street to Liverpool on Friday, Sept. 1.
On Thursday [Aug.31], over the radio came the news that all the danger zones in England were going to evacuate their children [Sept. 1], and that people traveling by train were required to put off their trips if possible, as so many trains were to be taken over by the government for this purpose. I decided I would go by car. I believe it's about 270 miles from Street to Liverpool, which is quite a journey by car in England.
However, I got in touch with an old acquaintance of ours who owned and operated a garage with cars for hire and they gave me a price, which I accepted, and after talking it over, I decided I would travel all night Friday to arrive in Liverpool early Saturday morning. …Thursday night I went to bed reconciled to the fact that the next night would see me traveling the first lap of my journey home. I don't think I need try to tell you of the nervous tension we all were under, not knowing from day to day what the next dreaded news would be, trying to keep cheerful and be optimistic about everything. I kept telling my relatives that I knew God would protect us and all would be well.
Sept. 1, 1939, just before dawn, the German army began its invasion of Poland, making war in Europe almost inevitable.
Friday morning about 10:30, the father of the young man who was to drive me to Liverpool, called to tell me his son had been called for military duty and would not be able to drive the car. He told me he would telephone and find out if the Pine Express would be running that day, and if so, the best thing for me to do would be to try to catch it at Shepton Mallet, 13 miles away, where it would go through about 12 o'clock. He was assured that it was running as scheduled, and as quickly as I could I got ready, and without saying goodbye to most of my friends and relatives, I rushed off to try to catch the Express. We just made it. The train was crowded with people returning unexpectedly from their vacations, all looking doubtful as to the future, but trying to be brave and calm. As I think about it now, and remember how unified they were and how unresentful and reconciled to their fate, ready to do and to give up all their country demanded, I [have] to admire their courage.
Part 3: Rhoda boards Athenia, and wonders how the crowds of women and children will all find accommodation on the ship.