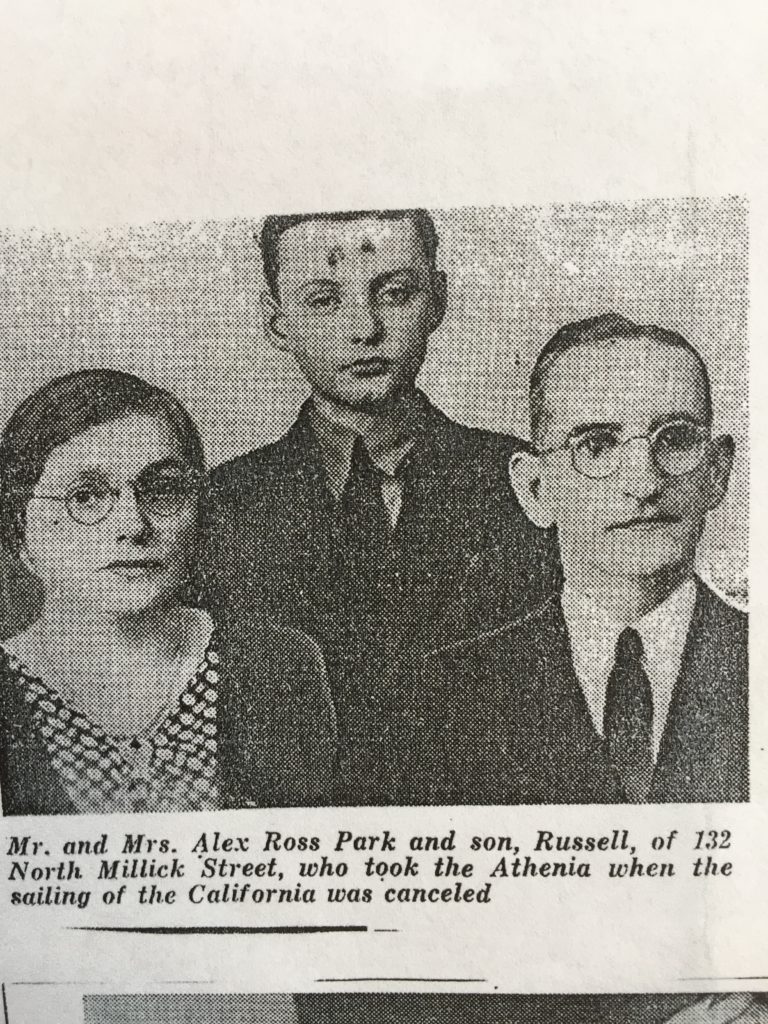 After researching and writing my forthcoming World War 2 historical novel, Without Warning, I made several manuscript revisions to sharpen its focus and pacing. The book is fiction but based on actual people and events related to the sinking of the British passenger ship, Athenia, at the start of the war. Revising a manuscript can involve painful decisions regarding what to delete. The most difficult part of this process for me was deciding to cut Russell Park, one of the book's characters, from the final draft. Happily, Russell doesn't have to be lost, thanks to this blog. What follows is the first of a 13-part series featuring my fictional account of Russell's experiences as he lived through the first hours and weeks of World War 2.
* * *
Friday Evening, September 1, 1939
A cold, wet evening breeze swirled around the broad-beamed tender ferrying more than a hundred passengers to the ocean liner Athenia, laying at anchor in the wide bay east of Belfast Harbor. Eleven-year-old Russell Park stood at a crowded window in the tender's lounge, looking past the droplets of mist on the glass for his first glimpse of the big ship they soon would board.
Russell and his parents, Alexander and Rebecca Park, had spent three weeks visiting relatives in Ireland. Like many other Americans vacationing in the British Isles, their plans were altered by the growing threat of war on the Continent. Russell understood war concerns had something to do with changing the ship they would sail back to America. The new ship would take them to Canada instead of New York City, and from there they would take a train home to Philadelphia. His father wasn't happy with the change because it would cost him a few extra days away from his job at the Navy Yard, but Russell thought it all sounded like a great adventure.
"See anything yet, Russ?" his father asked.
"Nothing."
"Come here a minute." Russell turned to see his father patting an empty seat next to him. The boy sighed in anticipation of another lecture about not bothering people, one his mother had delivered an hour earlier when his father was checking their luggage onto the passenger tender. Nevertheless, he dutifully took the seat next to his father.
"We're going to be on a very crowded ship when we sail for home tomorrow," Alexander said. Russell nodded to show he was paying attention. "I want you to promise me that you won't go running off on one of your explorations before checking with me or your mother. I'm not worried about you getting lost. I'm worried about you being a nuisance. A lot of people are concerned about what's happening on the Continent right now and they won't have much patience with a boy poking around where he doesn't belong, even a boy with your innocent round face."
Russell allowed himself a brief smile.
"I mean it, Russell." Alexander was not a big man, but he wore very thick glasses that magnified his eyes, and when those eyes narrowed, as they were now, Russell knew a smart remark or sideways glance would deny him one of his favorite activities, to explore a new location on his own.
"Yes sir," he said with all the sincerity he could muster.
"Okay." His father's baleful gaze eased and his voice moderated. "I want you to stay close to us tonight. We need to sort out our accommodations and see what's happening.  Tomorrow there will be hundreds more passengers coming aboard and a lot of confusion. But maybe Sunday, when things have settled down, we'll see if you can have some time to explore."
"Thank you, daddy."
"All right, young man, back to your lookout post."
When he reclaimed his place at the window, Russell spotted a long gray cloud hanging above the water in the distance. The cloud gradually formed itself into the superstructure of a ship. He could barely distinguish the ship's big black hull against the dark headland beyond. It had to be the Athenia, but something about its appearance disturbed Russell.
A few minutes later, standing on the deck of the tender with his parents, Russell realized he could not see any light from Athenia's portholes.
"Dad, there are no lights on. Is something wrong?"
"I don't think so, Russ." Alexander said. "The ship's probably blacked out. I'm sure the lights are on inside."
"Why is it blacked out?"
"It's probably just a precaution. Don't worry about it, son."
He wanted to ask if the precaution had anything to do with the war, but his father didn't sound eager to discuss it. Holding his mother's hand at her insistence, Russell crossed from the bobbing tender to a platform attached to Athenia's hull. As they climbed a stairway up the side of the ship to an opening in its hull, Russell peered into the nearby portholes but saw no trace of light.
When they entered the side of the ship through heavy curtains, however, Russell found himself in a brightly lit passageway. A man in an official-looking blue jacket checked their embarkation card and began talking with his father.
"Hello there, young man." Russell looked up at the sound of a familiar voice to see the smiling face of a youthful priest in a black suit and shirt with a white clerical collar.
"Father O'Connor," Russell cried. "Are you on this ship?"
"I certainly am." The Parks had become friends with Father Joseph O'Connor when they met on the ship sailing from America to Ireland a few weeks earlier and realized they shared a Philadelphia connection. Russell turned to tap his father's arm.
"Dad, its Father O'Connor."
Alexander greeted the young priest with an enthusiastic handshake and they began a discussing their mutual travels in Ireland. Russell wanted to look around the ship and see how it was blacked out, but he knew he needed to stay with his parents.
"Dear, the steward is waiting to direct us to our cabins," Rebecca said, interrupting her husband and the priest. They ended their discussion with a promise to meet tomorrow.
On the way to their cabin, Russell learned he and his mother would be in a different cabin from his father. Alexander explained the shipping company wanted to fit more people aboard, so four passengers were being assigned to every cabin.
"Is this because of the war?"
"I'm afraid so, son. It looks like everything is going to be more unsettled than we thought." With a stern glance, his father added, "Just remember what I told you about staying close."
As he lay in his bunk that evening, Russell worried the crowded conditions and concerns about war would cause his parents to be even more cautious than usual. Maybe the crossing to Canada would not be the grand adventure he had expected.
In our next blog: An amazing sight greets Russell in Liverpool.