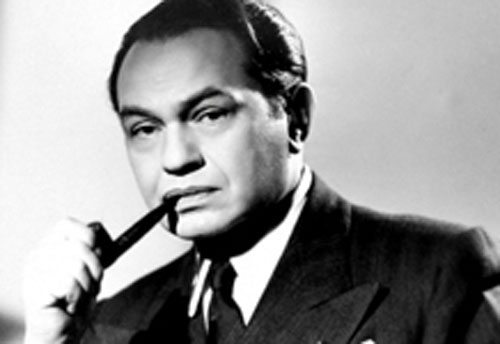 This tough-guy actor, Edward G. Robinson,  and his family were traveling in Europe in 1939 when word came that the German army was preparing to invade Poland—an act that signaled beginning of World War II. Like many other Americans, they decided to get packing.
As Robinson tells the story in his 1958 autobiography, My Father, My Son, the ship they had in mind was the British ocean liner Athenia. "But something went wrong, the boat was crowded or left early," he wrote. "Anyway, I remember the best we could do was to get a single cabin on an American ship, the S.S. Washington."
Their accommodations on the Washington may have been cramped, but the Robinsons would have been even less comfortable on the Athenia.
On September 3, 1939, it was stuck by a torpedo from a German U-boat off the coast of Ireland, becoming the first British ship sunk by the Germans in World War II. Of the roughly 1,400 passengers and crew on board, a reported 112 died, including 28 Americans. The rest were rescued, in part because the ship took 14 hours to sink. Fearful that the incident would mobilize the then-neutral U.S., Nazi propagandists denied any involvement and tried to blame it on the British.
The S.S. Washington arrived safely in New York with a passenger list that not only included the Robinson family but Sara Delano Roosevelt, mother of the president, and one of his sons, James. Robinson went on to make some of his best movies, including Double Indemnity, Key Largo, and The Stranger. He died in 1973 at the age of 79.
This blog first appeared on www.Smithsonian.com