Royal Australian Navy veteran Mackenzie J. Gregory created "Ahoy – Mac's Web Log" more than 30 years ago on the Internet. He dedicated the site to all "Who went down to the sea in ships" in World War 2, and especially to the 84 officers and men who died on H.M.A.S. Canberra at the Battle of Savo Island, August 9, 1942. Over the years, Mac's website has become an invaluable source of information, much of it first-hand, regarding naval exploits from the war. 
Mac joined the Royal Australian Naval College as a 13-year-old Cadet Midshipman in 1936.  He went to sea as a young naval officer in August 1939 as the clouds of war gathered over Europe.
Three years later he was serving as Officer of the Watch aboard the cruiser Canberra in the Solomon Islands northwest of Australia when the Battle of Savo Island began August 8, 1942.  The 'Canberra' did not survive the battle.
After the war, Mac completed the first combined Torpedo Anti-Submarine (TAS) Specialist Long course in UK Naval Schools from 1947 – 1948.
Other assignments followed, including aide de camp to Australia's Governor General in the capital of Canberra, and as Fleet TAS Officer on the staff of the Flag Officer Commanding the Australian Fleet aboard the carrier Vengeance.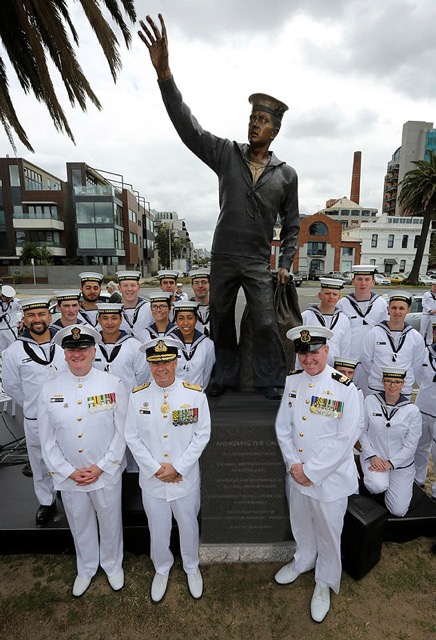 Several years after retiring from the navy, Mac started "Ahoy," helping to preserve the memories of both service men and women and civilians caught in the whirlwind of war.
His long held dream to erect a bronze commemorative statue of a World War 2 sailor "Answering the Call" was unveiled by Royal Australian Navy Vice Admiral Tim Barrett in November 2015.
Although Mac passed away Aug. 27, 2014, before he could see his dream realized, his website had already become a fitting monument of his devotion to preserving history.
You'll discover that Ahoy – Mac's Web Log is filled with interesting articles, features, guest stories, and a forum. 
Lieut Cdr NICOLAS BRACEGIRDLE MBE RN (BATH, UK) writes: His erudite website has been a magnificent example to all naval historians and shipmates. RAN history is made all the more accessible by this wonderful gentleman and even in our sorrow, we hope that his family are strengthened by the many tributes from all over the globe.
Visit http://www.ahoy.tk-jk.net/index.html for more.