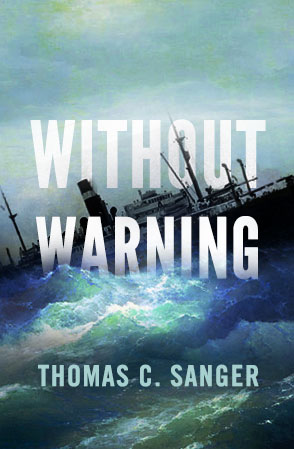 Without Warning is a historical novel about a British passenger liner that was attacked by a German submarine only a few hours after England declared war on Germany at the start of World War II in 1939.  The name of the ship was the Athenia and nearly three-quarters of her passengers were women and children and included my grandmother.  Despite being the first British ship sunk in the war and the fact that 30 Americans were among the 112 people who died in the attack, very few people have ever heard of Athenia.
A few years ago I re-read my grandmother's account of these events and realized there were likely many personal stories of heroism and sacrifice that accompanied the sinking.  I decided to tell Athenia's story from the point of view of the people who faced life and death challenges while escaping a sinking ship, surviving in an open boat on the ocean and boarding rescue vessels in a rising sea at night.  My book follows the action through the experiences of nine people: seven passengers, the Athenia's chief officer, and the commander of the German U-boat.   The story includes cameo appearances by a king, a prime minister, a Swedish millionaire and a future president of the United States.
I based the book on accounts written by passengers, personal interviews with survivors and descendants of survivors, books, contemporary newspaper stories, history-related websites, and original documents I reviewed in libraries and archives in England, Scotland, Germany and the United States.  Without Warning is intended to honor the memory and sacrifices of Athenia's passengers and crew, both living and dead.