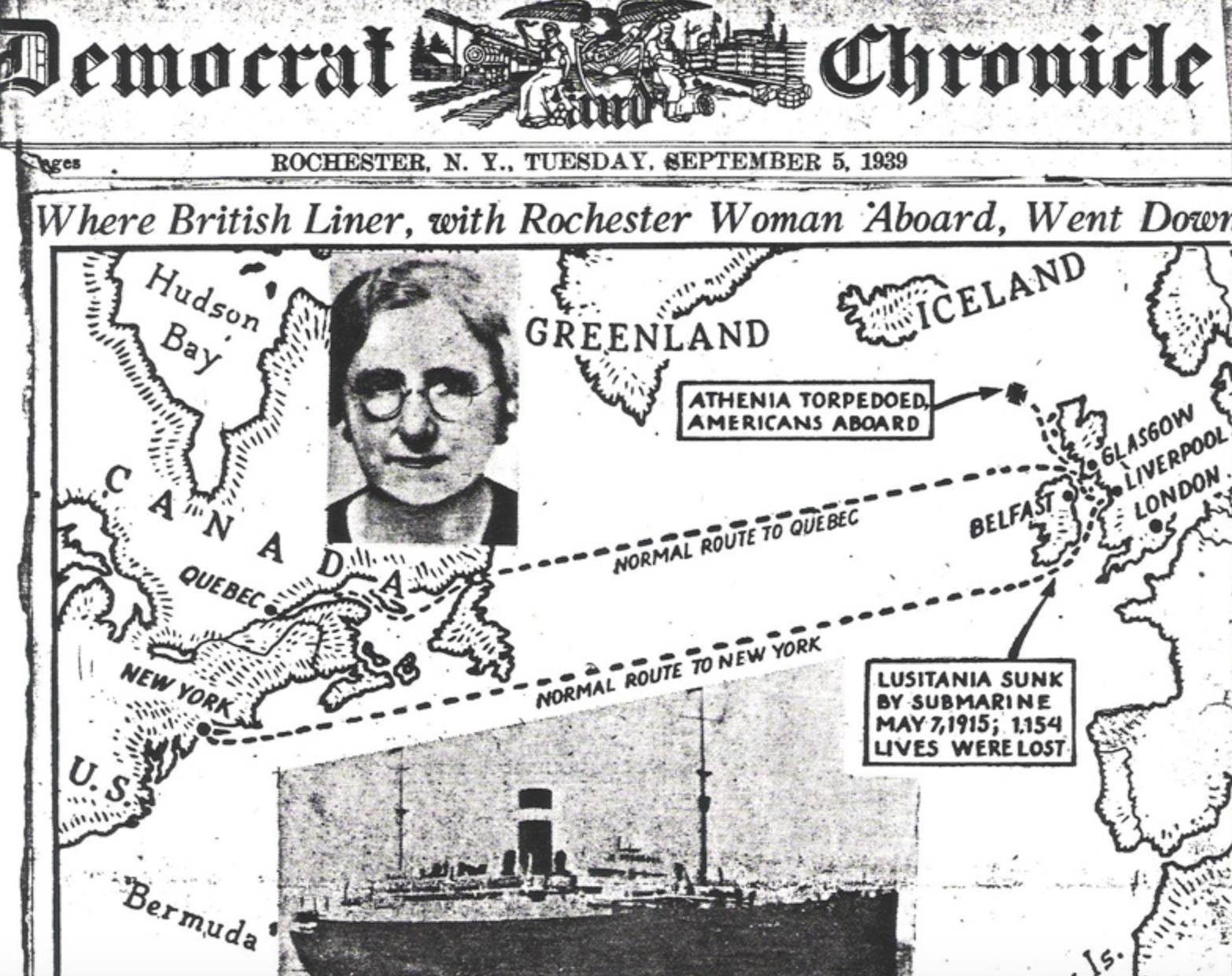 I spent several days exploring the fascinating SS Athenia pages on Ahoy – Mac's Web Log.
My interest in this site, dedicated to "All who went down to the sea in ships" in World War 2, was a personal one.
My grandmother, Rhoda Thomas, was a survivor of the Athenia's torpedoing by a German U-boat, and she left our family with a detailed account of her experiences that evening and beyond.
Rhoda Thomas was born in England, but immigrated to the United States with her husband and small family in 1914.
She had returned to England in August, 1939, to visit with friends and relatives but was advised by the American consulate toward the end of the month to return home as soon as possible.
Grandma boarded the Athenia in Liverpool. When the ship was attacked Sept. 3, 1939, she was on deck and, fortunately for her, wearing a heavy coat against the evening chill.
The lifeboat she entered was crowded and she had to stand for a good portion of the night. During this time, she was handed a baby to hold under her coat to keep warm. How I would love to know that child's identity and what became of him or her!
Also in the lifeboat with by grandmother were Margaret Hayworth, a child who eventually died of wounds she received in the submarine attack, and her mother.
They were rescued by the Southern Cross and later transferred to the City of Flint and landed at Halifax.
While on the City of Flint, my grandmother met another survivor — a young man named John Garland.  They struck up an acquaintance because they were both from Rochester, New York.
Over the years, I found that many people knew of the Lusitania, a passenger ship torpedoed by a German U-boat during World War I, but hardly anyone had ever heard of Athenia, even though 30 Americans died in that attack more than two years before Pearl Harbor. My fascination with this ship, my Grandmother's personal account and a collection of newspaper articles encouraged me to write my debut historical novel, Without Warning.  
In researching the book, I read many inspiring and harrowing accounts written by other survivors and I was able to speak to a handful of them who are still alive. What began as a project to remember my grandmother, became a personal effort to honor the memories of Athenia's passengers, whose heroism and sacrifices have been overshadowed by the war's greater conflagrations.