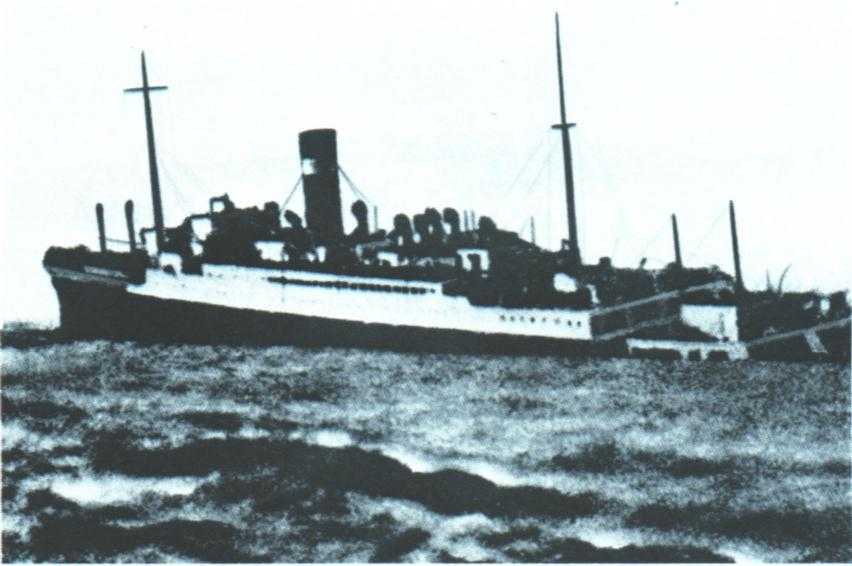 Sunday, Early Evening, September 3:  Russell Park and his father, Alexander, returned from the first dinner seating in the Tourist dining saloon and knocked softly on the cabin door where Russell and his mother were staying with two other women on B deck. Rebecca had decided to skip the evening meal because of her upset stomach.
"Come in," she called. They entered to find her alone, looking pale and still in bed.
"Do you want to see the doctor?" Alexander asked.
"Let's wait until morning." She smiled. "I'm afraid I'm not very good company right now. You two should go for a walk before it's dark. I'll probably be asleep by the time you bring Russell back."
"Are you sure you'll be all right for now?" Alexander put the back of his hand on his wife's forehead. "You don't feel like you have a temperature."
"No, I think it's the ship's motion. I'm just going to have to get used to it."
"I hope you feel better, mom."
"Thanks, sweetie."
Russell and his father took a brief turn on the aft end of the Promenade deck and watched  the last of the orange sunset fade to gray in the clouds overhead. Then they went inside to the Tourist lounge, where his father suggested Russell could check out a book from the ship's library. Russell chose an oversized book about trains from the children's shelf, and followed his father to two comfy looking chairs by a large glass-topped table.
"Why don't we sit here for a few minutes," his father suggested. "You can look at your trains and I'll read this magazine." Alexander picked up a copy of Time lying on the table, while Russell settled into the chair next to him. The train book was so big its pages reached across Russell's lap to both sides of the chair. He stared at a dramatic illustration with a dangerous looking gray sky hanging over a long dark shape surrounded by several swooping splashes of white. It took him a moment to work out the picture of a steam locomotive plowing through a snowstorm.
After a few pages, Russell had trouble keeping his eyes open. His head had just begun to nod when a deafening roar filled the room and everything went black.
"Something's happened.  Something's happened," a voice shouted in the darkness. Russell lay pinned to the floor by a weight resting on top of him. The air smelled like burned paint. Sounds of shattering glass and splintering wood gave way to the screams of men and women.
"Something's happened." Russell heard the voice again. It was his voice, except that it sounded ragged and loud. He was screaming.
"Russell. Russell, where are you?" He recognized his father's voice.
"I'm here Dad," he shouted. A moment later he felt the weight come away from his chest and his father helped him stand up.
"Are you oaky?"
"I think so." Russell felt dizzy. He wanted everything to slow down so he could understand what was happening. Just enough light shone through the room's tattered blackout curtains for Russell to see an expression he had never seen before in his father's face—fear.
He followed his father out of the shattered Tourist lounge into bright glow of an emergency light atop the ship's stern mast. Above them, on the Promenade deck, Russell recognized the muster station where he and his mother were supposed to go in an emergency.
"Dad, that's our lifeboat up there," he said.
"Let's see if your mother is already there."
Rebecca was not on the Promenade deck, and there were no sailors at Russell's muster station. Alexander said they should go up to the Boat deck where more lifeboats would be available. Heading for the stairs, Russell was surprised to see the cover missing from the hatch where he had relaxed that afternoon. They walked by the open cargo hold and he saw its exposed interior sides were blackened, as if there had been a fire earlier. Maybe all the water in the hold was used to put it out, he thought. Trying to make sense of it all, another strange sight startled him.
A charred bundle of rags lay in a pile near the base of the stairs, but after taking a few steps closer, he saw the bundle was the badly burned body of a man. A woman mounting the stairs accidentally bumped the man with her foot and he moaned, but no one paid him any attention. Russell wasn't sure what to do and he slowed, but he felt his father's grip tighten on his arm and hustle him past the burned man and up onto the stairs.
"Ladies and gents, we are putting the lifeboats in position for lowering," said a large steward who blocked the top of the stairway. "As soon as they are ready, I will let you up. It'll be women and children first, so please maintain your order. And don't worry. We've plenty of room for everyone."
Russell's father turned him around on the stairs to face him and put his hands on the boy's shoulders. The thick glasses magnified the intensity of his father's eyes.
"Listen to me, son. I want you to wait here. I'm going down to your cabin to find mother and bring her back up."
"I want to come with you." Russell felt panicky at the thought of being left alone.
"No, son, it's too dark and crowded. I might lose you." Russell heard the firmness in his father's voice and knew the decision was final.
"Now, this is important. If the lifeboats are ready before I get back, I want you to go ahead and get in. Do you understand?"
"Yes, Daddy." Russell wondered what had happened to change his life so suddenly. He wished he could go back to this afternoon when he happily explored the ship. Maybe he could have made things turn out differently.
He watched his father push his way back down the stairs and disappear into the crowd. Standing on the stairway surrounded by dozens of people, Russell Park had never felt more alone in his life.
In our next blog: Will Russell be able to leave Athenia with his parents?
Image of SS Athenia courtesy http://www.39-45war.com/athenia/
Read the whole story!  Visit my website and read the past blog posts.