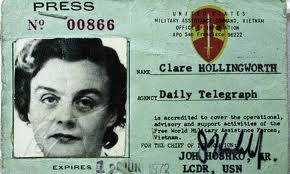 Clare Hollingworth, a British journalist whose career as a war correspondent spanned more than four decades, died earlier this month in Hong Kong at age 105. She covered conflicts from Europe to the Mideast to Vietnam, but it was her reporting during her first week on the job that became the touchstone of her career and the reason for this blog's interest in her.
The child of well-to-do parents, Hollingworth was drawn to writing at an early age. She eschewed the life of a housewife to pursue a career in journalism, scandalizing her mother. In the 1930's, her freelance articles began appearing in the New Statesman, a British political and cultural magazine.
After Hitler annexed the Sudetenland of Czechoslovakia in 1938, the 26-year-old Hollingworth went to Warsaw to work with Czechoslovak refugees. From March to July 1939, she helped thousands of people escape German occupation by securing visas for them to cross into Poland. Her experience in Eastern Europe led the editor of The Daily Telegraph in London to hire Hollingworth as a reporter in August 1939 to cover the growing tensions in Poland.
On the job less than a week, she somehow convinced the British Consul-General in Katowice, Poland, to loan her his car so she could drive over the border into Germany, thanks to the vehicle's Consular plates. While touring German roads just over the border on August 28, she observed a massive German build-up of troops, tanks and armored cars. Back in Poland, she telephoned her bureau chief in Warsaw and told him what she had seen. The front page story in the Telegraph the next day scooped the world's news media.
Three days later in Katowice, the rumble of airplanes woke Hollingworth at 5 a.m. She ran to her window and saw planes approaching and bursts of anti-aircraft fire. What appeared to be incendiary bombs began falling in a nearby park.
"It's the beginning of war," she shouted into the phone to her bureau chief at the other end of the line.
"Are you sure, old girl?" he asked her. In response, Hollingworth held the phone receiver out the window so he could hear the explosions.
On the way to the British Consul-General's office in Katowice, she began having second thoughts. Had she witnessed a military exercise and not the start of war? If so, her promising career as a journalist would be short-lived.
At the Consulate she received news confirming the German invasion. The date was Friday, Sept. 1, 1939, and the Telegraph's "cub" reporter had again scooped her colleagues with an eyewitness account of the start of World War 2.